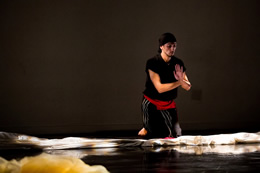 English version below.
Danseur / Chorégraphe / Professeur-conférencier / Intervenant pédagogique / Directeur artistique et pédagogique de la Compagnie-Ecole de Danse Hip-Hop Posuë.
Danseur issu de la culture Hip-Hop, Soufiane Karim, âgé de 32 ans vit en France jusqu'en 2006. Il y apprend les techniques de danses diverses comme le Hip Hop, tous styles confondus, mais aussi le contemporain, s'essaie à la danse jazz, le classique et l'afro, les percussions et les claquettes. Paris lui offre un véritable terrain de formation et il y développe son réseau professionnel et artistique avant de se former en enseignement des danses avec Mic Guillaumes.
Il suit son parcours de formation pédagogique et chorégraphique jusqu'en Nouvelle-Calédonie en 2006.
II y crée et diffuse ses premiers travaux chorégraphiques et continue sa formation d'enseignant pédagogue sur le territoire calédonien. Il est vite l'initiateur de projets artistiques et voyage dans les pays du Pacifique où il trouve de nouvelles inspirations en menant des recherches sur les danses et cultures traditionnelles. Au fur et à mesure de ses voyages, Soufiane développe un style Hip-Hop très personnel, riche d'influences traditionnelles variées.
En 2008, Soufiane fonde la Compagnie-Ecole de Danse Hip-Hop Posuë. Dans la langue de l'île de Lifou, posue contextualise le «maquillage avant les danses traditionnelles». Ainsi, jusque dans son titre, la Compagnie mêle ses influences, entre culture hip-hop contemporaine et expressions traditionnelles. Au sein de la Compagnie-Ecole, Soufiane accueille des danseurs de tous niveaux et issus de tous les horizons puis les initie et les forme à la pratique de la danse et à la création. Posuë assure aujourd'hui une formation par et pour la création de pièces chorégraphiques permettant à certains artistes de devenir professionnels et d'assumer l'initiation et l'organisation de projets artistiques d'envergure.
La Compagnie est aussi créatrice des nombreuses pièces chorégraphiques et de projets de collaborations internationales depuis 2007 : Nouvelle-Zélande, Vanuatu, Fidji, Australie, France, Indonésie, Malaisie... D'autres projets sont à l'ouvrage encore cette année sur le territoire calédonien et à l'international.
Actuellement Soufiane s'investi dans un vaste projet, Kaly-Graffyk, une pièce chorégraphique unissant des artistes de Nouvelle Calédonie, de Malaisie et d'Indonésie.
En 2013, il rencontre la chorégraphe de la compagnie Fleur d'Orange Hind Benali pendant la 6eme édition du festival ACTION DANSE au Maroc. Il est invité a collaborer avec elle pour la création du spectacle IDENTITY (tournée aux Etats Unis en octobre 2014, Washington DC, New York, Middletown, Pittsburg, Boston).
En 2015, il danse à l'Institut du Monde Arabe de Paris avec Fleur d'Orange le spectacle IDENTITY dans le cadre du « Maroc Contemporain », dans l'exposition « Entre Nous » initiée par l'Agence de l'Oriental.
English biography
Dancer / Choreographer / dance instructor / Artistic Director of Posue Dance Compagnie and School of Hip Hop
This international artist had been dancing since his early childhood when, at sixteen, he discovered hiphop.
The experience was life-changing and, as soon as he had finished studying communication, he launched straight into creating a life of dancing. He learned various dance techniques and styles in Paris and developed a keen interest in hip-hop culture. After five years in Paris during his early hip-hop training , he developed a taste for skill transfer and teaching.
Pursuing his love of travel, he continued his search, leaving Paris for New Caledonia to attend a three-part training programme.
Keen to share his travel and new friends, he put together his own solo production, "Sweet Hõm". In the third unit of the training session, he participated as a trainers' trainer, while continuing with his plans to develop dancing in New Caledonia and the Pacific.
He decided to set up the Posuë Dance School-Company and travelled with several New Caledonian dancers and collaborated with artists in Vanuatu, Fiji, New Zealand, Australia, Malaysia, Indonesia, France to organise courses and shows.
His research are based also in his own style and way to create, to feel and to compose the mouvements in a way to express poetry, passion and an incredible way to tell stories. From old school style to new school, house... Soufiane has worked 15 years in discovering his way of dancing by learning and re-discovering all kind of dance styles like African dance, ballet, jazz, contemporary, tap dance, Pacific / South-East Asia / North Africa traditional dances. More than dance technic, he has also learnt how to developp his body in a different dance, different way of moving, time and space situations built around a concept.
After five years directing the company and setting cultural and ethnologic research based on traditional marking in Pacific and South-East Asia his projects sent him back to Morocco to developp his work on Islamic traditions and Arab culture, creating the "Kaly-Graffyk" project.
As a Moroccan who always been close to his roots, he made a decision to settle himself there, for a total immersion in his religion, culture, traditional art and his family. He met Hind Benali, choreographer and artistic director of ACTION DANSE Festival and of Fleur d'Orange company that gave him an opportunity to show his work in Casablanca and Oujda in the frame of the festival in September 2013 and to collaborate with local artists as well as internationals.
Since he is involved in Morocco he gave several hip hop/contemporary workshops for communities and he has been invited by Hind Benali to collaborate with her and the talented musician Mohcine Imrharn in the project IDENTITY that went on tour in October 2014 in USA. In 2015, he performed IDENTITY at "Institut du Monde Arabe" in Paris with Fleur d'Orange.
© 2018 Association Fleur d'Orange, tous droits réservés.
Conception : YC.