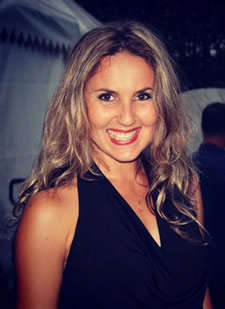 English version below.
HIND BENALI a été formé au Théâtre Ballet Zinoun à Casablanca puis a intégré en 2001 le Centre Chorégraphique National de Danse Contemporaine à Montpellier. A son retour, elle a enseigné la danse au Conservatoire Municipal de Casablanca et aujourd'hui au Conservatoire Régional de Musique et de Danse de Marrakech. Hind Benali donne parallèlement un grand nombre de stages à travers le Maroc et à l'international (associations, orphelinats, établissements scolaires, école de danse, festivals de danse, alliances et instituts français…).
En 2013, Hind décroche une tournée aux USA (tournée Center Stage, un projet d'échange et de diffusion initié par le State Department et NEFA) pour l'automne 2014 avec une nouvelle production, IDENTITY. Elle crée une première partie d'IDENTITY en prenant pour mentor le chorégraphe et musicien Sashar Zarif (Azerbaidjanais-Iranien) et présente le work in progress à York University à Toronto. La même année, elle est commissionnée par l'Ambassade des Etats Unis pour coordonner la tournée et les ateliers de danse de la prestigieuse compagnie HUBBURD STREET DANCE CHICAGO (Dance Motion program)
Avec Esther Baker, elle crée le duo HER OTHER SIDE au Centre de Développement Chorégraphique de Ouagadougou et à Headlands Center for the Arts à San Francisco. Le duo est présenté à Highways Performance Space à Santa Monica, à Headlands Center for the Arts à San Francisco et puis il est réadapté pour le festival « Perform Chinatown » à Los Angeles.
En 2014, elle enrichit sa création IDENTITY en collaborant avec le chorégraphe Soufiane Karim (Nouvelle Calédonie), le musicien Mohcine Imrharn (Maroc) et le calligraphe Yacine Fadhil (France). IDENTITY est dansée au « Kennedy Center » et « Dance Place » à Washington DC, à « Kelly Strayhorn Theater » à Pittsburg, à « Armory » à Boston, à « Wesleyan University » à Middletown et à « Gibney Studio » à New York. Durant cette tournée, elle a l'occasion de donner une vingtaine d'ateliers dans diverses structures en compagnie de Soufiane Karim et Mohcine Imrharn (Mark Morris Center, Spaceworks, Endicott College, Pingree School…)
Elle cèle un partenariat avec l'Agence de l'Oriental pour œuvrer dans toute la région du Maroc Oriental à travers des spectacles et ateliers de sensibilisation à la danse et à l'art de la scène. Dans la même foulée elle est invité en 2015 par l'Institut du Monde Arabe à Paris et l'Agence de l'Oriental pour représenter la Région de l'Oriental avec son spectacle IDENTITE.
En 2012, avec le soutien de l'ambassade des Etats Unis du Maroc, elle s'envole aux Etats Unis et lance des projets de création et de sensibilisation en collaboration avec Baker and Tarpaga Dance Project et Battery Dance Theater (New York).
En 2008, elle crée le festival annuel « ACTION DANSE » plateforme de danse contemporaine et hip-hop au Maroc qu'elle dirige depuis lors. A partir de 2011, elle focalise le festival sur la région de l'Oriental avec le soutien de la Région de l'Oriental et de l'Agence de l'Oriental. Depuis, elle s'investi dans différents projets de sensibilisation à la danse dont « ACTION DANSE à l'ECOLE » et les nombreux stages et évènements, notamment dans la région de l'Oriental.
En 2009 et 2011 elle collabore avec le chorégraphe Thabiso Pule (Afrique du Sud), pour le duo MIRAGE puis EXPO. En 2003, elle chorégraphie la pièce SEG SEGBO avec Auguste Ouédraogo (Burkina Faso) qui lui ouvre les portes sur l'Afrique. En 2006 elle crée un solo, VOI, mêlant une dizaine de figurants locaux et monte l'Association Fleur d'Orange basée à Casablanca.
English biography
Hind Benali is a performer, choreographer, dance instructor and artistic director of Action Dance Festival in Morocco and of Fleur d'Orange Association.
She was formed at Ballet Theater Zinoun in Casablanca and at Choreographic National Center of Montpellier in France.
Recently, in July 2013, she was selected by Center Stage (tour program initiated by the State Department and New England Foundation for Arts,) to participate in a tour in the US in 2014 with her new piece IDENTITY. In 2013, besides HER OTHER SIDE touring (Headlands Arts Center in San Francisco, Highways Performance Space in Santa Monica and Perform Chinatown in Los Angeles, she was commissioned by the American Embassy of Morocco to coordinate the Dance Motion program (USA) in Morocco of HUBBARD STREET DANCE CHICAGO.
Today she is working on IDENTITY in collaboration with the choreographer Soufiane Karim (Moroccan living in New Caledonia) and the musician Mohcine Imrharn (Morocco) and the calligrapher Yacine Fadhil (Moroccan living in France). The piece is partly mentored by Sashar Zarif (Canada). IDENTITY has been performed in the frame of Center Stage at « Kennedy Center » and « Dance Place » in Washington DC, at « Kelly Strayhorn Theater » in Pittsburg, at « Armory » in Boston, at « Wesleyan University » in Middletown and at « Gibney Studio » in New York. During the tour she has the opportunity to give several workshops in different kind of structures with Soufiane Karim and Mohcine Imrharn (Mark Morris Center, Spaceworks, Endicott College, Pingree School…)
The same year she has signed a partnership with the Oriental Agency to boost the Eastern region. For two years, dance projects will be developed with a local and international team. In 2015, the Oriental Agency invites IDENTITY to represent the Eastern Region at the "Institut du Monde Arabe" in Paris in the frame of "Contemporary Morocco".
In parallel and since 2012, Hind teaches in Marrakech at the Conservatory of Music and Dance and other dance schools.
In 2012, she received a grant from the US embassy in Morocco to go to New York to work with Battery Dance Theater on the "Dancing to Connect" program and Ohio State University to start HER OTHER SIDE research with Esther Baker Tarpaga and to benefit from intensive dance training.
In 2010 and 2011, she created with Thabiso Pule the duets MIRAGE and EXPO (Dance Umbrella in South Africa, French Institute of Dakar, French Institute of Meknes, Oujda and Rabat, Cultural Center of Nador, Festival Action Danse in Oujda…)
In 2008 she launched ACTION DANCE Festival to contribute to the development of dance in Morocco and to foster collaborations between dancers.
In 2006 she formed her own company Fleur d'Orange and choreographed VOI (danced in Dialogue de corps of Ouagadougou Bobo Dioulasso, French institutes of Morocco, Francophonie Games in Lebanon, Le Lavoir Moderne de Paris…) In 2003 Hind Benali created the piece SEG SEGBO with Auguste Ouedraogo from Burkina Faso (danced in Dialogue de Corps in Burkina Faso, French institute of Bamako, Bobo Dioulasso, Zinder, Niamey, Casablanca, Marrakech, Abok I Ngoma in Cameroun, Printemps de la Danse of Tunisia…) From 2002 to 2004 she taught classical dance at the Municipal Conservatory of Casablanca and at "the professional training for contemporary dance in Marrakesh" settled by French embassy and French institute of Marrakech (2003 to 2005).
© 2018 Association Fleur d'Orange, tous droits réservés.
Conception : YC.